Hydraulic lifting table is a mechanical device used for various applications for lifting of the loads to a height or level.
A lifting table is defined as a Scissor Lift used to stack, raise or lower to convey and/or transfer materials between two or more elevations.
A scissor lift provides most economic dependable and versatile methods of lifting loads and it has few moving parts which may only require lubrication at several intervals.
The scissor lift raises load smoothly to any desired height and can be used in combination with any of applications such as pneumatic, hydraulic, mechanical, etc.
Scissor Lift design is used because of its ergonomics over other heavy lifting devices available in the market. And also the frame is very sturdy and strong enough with optimum structural integrity.
A multiple height scissor lift is made up of two or more leg sets, which typically used to achieve high travel with relatively short platforms.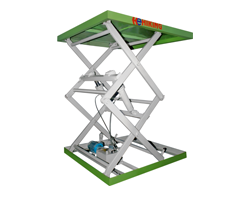 Scissor Lift
Load Capacity : up to 5000 kg
Height : up to 2.4 meter (8 ft.)
Platform Size : up to 10 ft X 4 ft.
Type : Fixed or mobile (power operated)
We have developed following types of Scissor lifts :
1) Fixed Type Hydraulic Scissor Lift (single/double leg sets)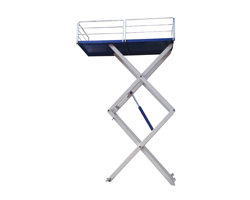 FIX TYPE SCIESOR LIFT
2) Movable Type Hydraulic Scissor Lift (single/double leg sets)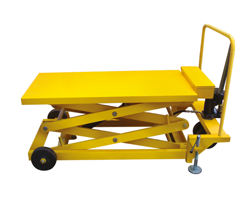 MOVABLE SCISSOR TABLE
3) Manual Scissor Lift (for small loads)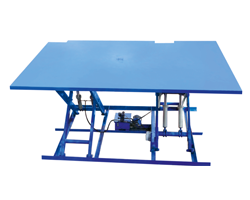 MANUAL SCISSOR TABLE
Advantages Of Using Scissor Lift :
Ergonomics, smooth material handling with provision of comfort to the operator was our main motive behind developing this lifter, which ultimately resulted in a radical improvement in the productivity of desired industry.
And also the build quality is high due to its very strong frame design to withstand maximum loads.
The scissor lift can also be designed for high loads, if a suitable high capacity hydraulic cylinder is used.
It is simple to operate and does not require routine maintenance as only few moving parts are involved.
And that is why it has low operating cost.
Apart from that, we have our own iteration of hydraulic stacker counter balance known as Hydraulic Floor Jib Crane which is convenient and compact in transferring and loading/ unloading of pallets and boxes within industry.