Goliath Crane or Gantry Crane is most suitable type of material handling equipment to handle bulky loads in open working space as well as in-house assembly line.
Generally it is desired for outdoor applications such as marble industry, automotive industry, infrastructure projects, locomotive production and maintenance, etc.
The name Goliath suggests huge load capacity and giant structural build up. However, it often finds its use in assembly shop of automotive industry as heavy engines and other assembly components to be transferred from one place to another.
"Hiking" heavy duty gantry crane is the ideal material handling equipment for various industries and projects like Maintenance Hangers, Factories, Power-stations, Large water works, Railway yards, Harbors, Warehouses, Transporters, Mines, Quarries, Heavy Fabrication units, Contacting firms, etc. It finds numerous applications such as Loading and Unloading trucks, Heavy pipe-lay in trenches, Erection of bulky equipments, shifting of heavy loads, etc.
Types of Gantry Cranes Available At Our Premises :
1) Movable Gantry With Adjustable Height :
Movable Gantry with adjustable height
2) Double/Single Girder Gantry Crane :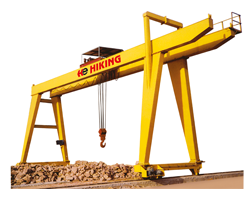 GANETRY CRANE
3) Semi-Gantry Crane :
Advantages Of Using Gantry Crane :
Generally it is provided for a safe and easy vertical extraction for most standards loading/unloading on transport vehicles.
A variety of standard heights, beam spans and capacities are available for specific operations.
Modular design allows for easy system expansion.
For acceleration/deceleration of the gantry the latest Variable Frequency Drive (VFD) technology provides smooth transitions.
Cable festoon kit keeps cables secure during operation of motorized trolley.
Applications Of Gantry Crane :
Maintenance Hangers
Factories, Power-stations
Large water works
Railway yards
Harbors
Warehouses
Mines
Heavy Fabrication units