A jib crane is a type of crane where a horizontal member (jib or boom) supporting a movable hoist, is fixed to a wall or to a floor mounted pillar. Jib cranes are used in industrial premises. The jib may swing through an arc to give additional lateral movement, or be fixed.
"Hiking" Jib cranes are built to consistently high specifications confirming IS-807 and IS-3177 and having earned an enviable reputation for reliability, minimum maintenance and free swinging.
Jib arm is fabricated from heavy section "I" beam and triangular truss construction for reducing deflection to acceptable limits.
Jib post is held in bearing housing brackets at either ends, brackets in turn anchored with main pillar with turned barrel bolts to ensure perfect alignment and ease assembly operations.
Capacity : 250kg to 5000kg
Rotation : up to 360 degrees
Boom Radius : up to 6 meters
Different Types Of Jib Cranes :
1) Free Standing or Pillar mounted Jib Crane :
Free standing jib crane is directly fixed on the floor without any support to keep it upright only with concrete foundation.
To maintain its stability and not topple over it we fix it to a foundation of 3 to 5 feet deep and up to 4 to 10 feet square foundation base. The foundation base depends upon the land and reach. (Civil works on client scope)
Advantages of this type of crane is it doesn't need a support wall or structure and provides range of span and control compare to wall mounted cranes.
2) Wall Mounted Jib Crane :
Like the name suggests this kind of jib crane is fitted directly onto the wall and it requires very little head room, so it can be fitted very close to the underside of roofs to provide maximum lift for the hoist.
The coverage like other types of crane is circular and generally around 20 feet, but it requires a strong wall or column structure to fix it and degree of rotation is lesser than that of free standing jib cranes.
This crane is very efficient way to move material when floor space is not available and digging a foundation for the crane is not feasible.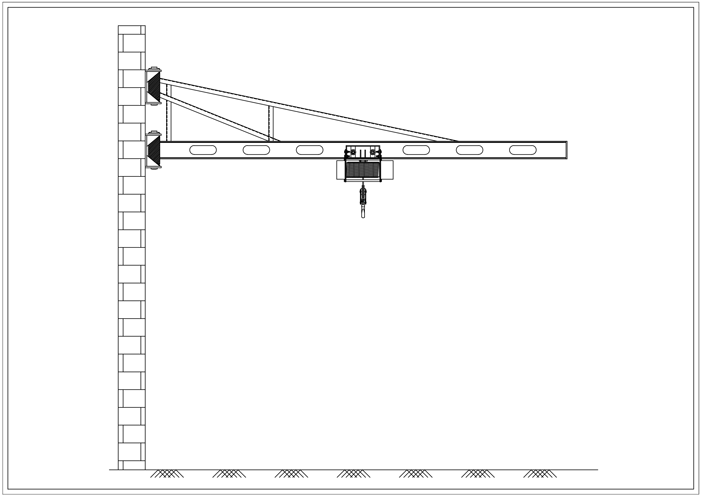 3) Wall-Bracket Jib Crane :
This crane is similar to wall mounted jib cranes but with a bracket, it is most economical means of providing hoist coverage for individual use in bays, along with walls or columns of plants.
The installation requirements and load and rotation are like the wall mounted crane. Use a lot for swinging around obstacles and over obstructions.
Application Of Jib Crane :
A jib crane is provided which can prevent an unexpected movement of a burden and can sufficiently ensure the safety of a burden handling work.
The major strength is its stability and flexibility of the devices.
It is ideal for lifting a product to or from material handling system to a work station or machine.
Jib crane is commonly used for work station and simple loading/unloading operations, where it is not necessary to spot a load precisely.
Jib cranes most often handle lighter loads at lower duty cycles than their bridge and gantry counter parts.