Overhead Or Top Running Crane :-
As the name "Overhead Crane" suggests the bridge travels on top of rails mounted on runway beam supported by either the building columns or columns specifically engineered for the crane.
Top running or Overhead cranes are the most common form of crane design where the crane loads are transmitted to the building columns or free standing structure.
These cranes have an advantage of minimum head room and maximum height of lift.
Mainly Of Two Types:-
1) Single Girder EOT Crane :
This type of crane consists of single I-Beam or single Box-type Girder in accordance with span requirements.
Electric Hoist is directly mounted under that I-Beam or Box Girder.
For lower capacities, generally industries prefer use of Single Girder EOT cranes.
being cost-effective and reliable in most of the working conditions, Single Girder EOT crane is most suitable in small and medium scale industries.
We are constantly growing with our constantly learning practices from our previous projects to make our existing products from better to the Best by applying formula of "Keep tweaking it to make it better".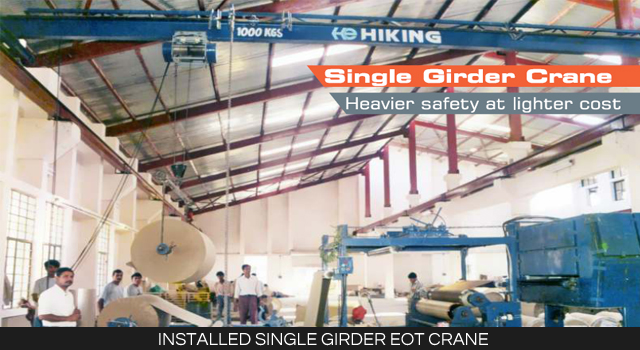 2) Double Girder EOT Crane :
As tonnage weight to be lifted increase with longer spans, we provide the option of Double Girder EOT crane as perfect solution for such working conditions.
This type of crane consists of two Box-type Girders with motorized End-carriages on both ends.
Electric Crab is used instead of Electric hoist for dual runways.
Double Girder crane allows Hook to be brought up between the girders to improve the hook height.
Because of two girders are used to carry the load, longer spans can be bridged and higher capacities can be achieved.
Installed Double Girder EOT Crane at client's premises :